August isn't the best time to visit Hong Kong. It's midsummer which brings the kind of heat most people try to avoid. But the challenge is fun. Hong Kongers have elaborate strategies to help. Interconnected shopping malls, tunnels, covered bridges and cuts through vast office blocks provide chilled routes for pedestrians. So 10 minutes underground, emerge for 5 minutes to warm up, then down below again. It's an odd way of getting about but it works.
Directions for any pedestrian in the central areas are based on buildings and shops. Turn right at Miu Miu, take the lift opposite Daks, pass Harvey Nichols, take the bridge to Lane Crawford, left at the Lippi, through HSBC, into the Landmark & so on. Pity as the street names are so appealing: Foot Massage Lane, Battery Path, Upper Lascar Row, Ice House Street, Big Wave Road. Echoes from a colonial past.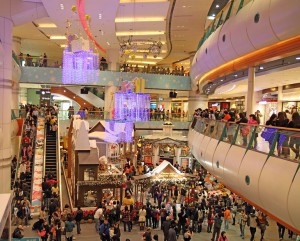 My daily route takes me through two smart malls, a bit like Sloane Street and Bond Street combined, but arranged vertically on three floors. Despite the army of commuters passing through, the shops are empty. A detour from the main route into an adjacent mall and it's a completely different scene. First thing you notice is that it's much warmer, not hot, but not fridge temperature either. And Sloane Street has been replaced by a world of small tailors, travel agents, florists, cafes and a faint smell of cooked rice. These shops have customers, not perhaps as many as in the street markets out in the heat, but at least they've got turnover. For this Westerner they are much attractive. The mystery of the empty shops was explained to me.
Mainlanders.
Hong Kongers have mixed feelings about Mainlanders and on the whole they are not positive ones. If, however, you have a shop filled with designer label handbags, you love them. Just one customer might buy the equivalent of a week's business. Occasionally, a porter is spotted weighed down by parcels from Prada, Dior, Channel etc. Otherwise, I'm told, they get sent over the sea by special delivery.
Just off Cotton Tree Drive, there's a lovely park where once the British had their largest barracks. Perfect for an early evening stroll 'home', it's full of lily ponds, lush trees, exotic birds and waterfalls. An escalator from the park takes me back down to the chilly mall, then a lift up to the apartment in time for a quick change and out into the balmy night air for a swim. Thankfully all cellulite is hidden under the blanket of darkness. Note to self. Must find out why Asian women don't have any…