The papers are full of photographs of Thames villages under water, including the street where I lived as a child in the 1950s. The Welley Road house in Wraysbury was the first my parents ever bought. They knew it was on a flood plain but they weren't worried. The river was half a mile away and didn't seem threatening. True there'd been a big flood in 1947 but that was dismissed as a once-in-a century phenomenon. The name of the road never raised the smallest flicker of a smile or a bad pun.
Our house, a modest timber bungalow built in the 1920s, was surrounded by two acres of garden with a boathouse converted into a garage. Aged 5, I walked to primary school just a few doors away, my mother watching from the gate. Further along the road we bought goat's milk from a small farm. Opposite the school were two shops – a butcher's and an unforgettable sweet shop. We children would gaze longingly at large glass jars behind the counter filled with tempting barley-sugar whistles, gobstoppers and sherbert lemons. We were too young for ration books so depended on our mothers' weekly quota. 3oz didn't go far.
The rest of the village lay only a short walk past the Green with Jewson's Chemist on the corner. Beyond the High Street were fields and some way in the distance the gradually encroaching gravel pits. In our time the river and its tributaries kept within their banks and we stayed dry in Welley Road. Hydrologists have apparently labelled these years 'flood-poor'. We were lucky.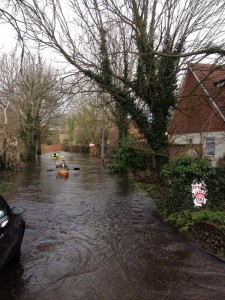 Today our little bungalow has been replaced by something much larger. The school and farm have gone. So too the butcher and the sweet shop, supplanted by a unisex hairdresser and a dentist. But the chemist – now The Village Pharmacy – is still on the corner exactly where it was 60 years ago. The village population has barely grown – the planners, it would seem, cautious about new building. We'd moved away before the once-hated gravel pits reached the edge of the village, transforming it into a lakeside haven and long before the river burst its banks finally reaching Welley Road.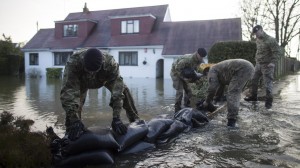 Who knows if this is another once-in-a-century catastrophe or if the current occupants of Welley Road are witnessing the beginning of what might be called a Flood-rich Age.