Grannies are refusing to abandon their cars. A record 200 or more are still driving after their 100th birthday. This is a new phenomenon not just because we're all living longer but because earlier generations of women didn't drive. Neither of my grandmothers ever bothered to learn. Both were born in the last decades of the 19th century. Granny from the South was a terrifyingly competent woman. But it never occurred to her that she should be able to drive. She didn't need to because she controlled her driver (whoever the unlucky person might be). A stream of directions were issued, a kind of human forerunner to a SatNav, accompanied by jabbing fingers on the driver's leg, 'Put out your right indicator now', 'There's a roundabout ahead,' 'Park under that tree.'  And most of all, 'Slow down'. She didn't believe cars could or should go faster than 30 mph.
Grandma from the North was quite different. A pretty, vivacious yet completely dependent woman, she simply loved being taken on a drive. She took no interest in the mechanics of it but kept a running commentary on what she could see. Cows sitting in a field … It was going to rain. Small stones in the next field… Mushrooms, we must stop and pick them. Blackberries … Memories of joyous pickings of the past. She was perfectly happy to be left in the car while others did the shopping. Once my mother came out of a shop and found both the car and grandma had disappeared. Some distance down the hill she spotted the car in a hedge. She'd forgotten to put on the handbrake. Grandma hadn't a clue what or where a handbrake was, so when the car started to roll she grabbed the wheel hoping that might do the trick. The car had the odd scratch. Grandma was fine. Surprisingly, she had been a great cyclist in her youth, often cycling with her brother from Northumberland to London to visit relations. When she got married she gave up her bike.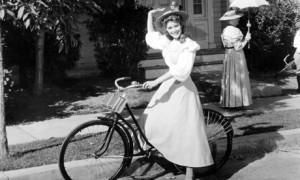 My own mother is about to visit for a short holiday and just like Grandma she loves to be driven. Even a trip to Waitrose carpark (like her mother she's happy to leave the shopping to others) will be greeted with enthusiasm. She's always been a competent driver herself and is still driving at 88. Long may it continue as it gives her the sort of independence she would sorely miss if she had to give it up.