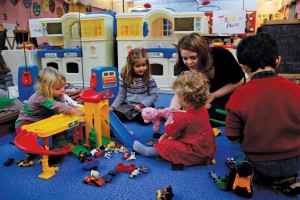 Forget glass ceilings. The main reason women give up promising careers is because of the high cost and complications of childcare. It's not hard to understand why mothers (and some fathers) find it impossible to carry on working as they did before becoming parents. Childcare in the UK is fraught with problems. Above all, it's extremely expensive. It costs more here than any other country apart from Switzerland. Families eligible for the government tax credit scheme starting this autumn will find the top benefit of £2000 doesn't go far in London.
If you don't like figures, skip the next four paragraphs, but they make startling reading.
A full-time nursery place (10 hours) can be as much as £22,000 a year per child. With a working day of 8, 10 hours and rising, add on a daily commute and a nursery is not an option even if affordable.
Live-in help is only possible with the size of house which today's property market puts beyond the means of many. If you have the space, the cost is around £28,000 for properly qualified help – cheaper than a nursery if you have more than one child. An au pair costs far less, but she only works 25 hours a week and has no training.
Back in my day child-minders were a popular and inexpensive daycare option – roughly half the cost of a nanny. A child minder, usually a mother herself, looks after one or more children in her own home. But finding one today is extremely difficult. Despite greater demand, numbers have halved since legislation was brought in 20 years ago. A child minder looking after children under 8 for more than two hours has to be registered. The cost of training and insurance puts off many potential minders as does a raft of regulations including Ofsted inspections and a 'nappy curriculum' with targets.

(Nannies Outside Downing Street 1959)
In London a live-out trained nanny expects £10 net an hour. For a 12 hour day, the cost including the employer's contributions comes to around £43,000 a year. £43,000 out of taxed income! Not surprising that families look for alternatives to the double whammy of an exhausting working life and a colossal childcare bill.
One answer is to give up work temporarily or permanently. Another is to reduce the amount of paid childcare needed. Typically a parent (still usually the mother) reduces her working week and goes part-time. Many firms can't or won't accommodate this which leads to a change of job or even career for the mother while the firm loses a valuable asset and potential leader. Some families avoid paid childcare altogether by getting a granny to come in when both parents are out at work: for instance, a GP in Bristol who finds the cheapest but also the best solution for her family is to fly her mother down from Scotland every week for the three days she works
.
I've noticed increasingly that friends are doing a lot of grandparenting. A quick poll of 30 found over half committed to weekly childcare in place of a paid minder. Almost all were more involved with their grandchildren than their own mothers had been and were happy to be so. But, depressing to report, most also believed their daughters have a tougher time with work and childcare than they had themselves. Admittedly, the majority live in London but figures for the whole country show over a third of families depend on this kind of informal childcare from friends or relations. It's a system that works well for many but is hard to combine with the hours and working life expected of most professionals. Part-time work is still career-limiting and too often seen as a sign of lack of commitment.
Combining children with a demanding job is never going to be easy but other countries seem to manage it better. Denmark has over 90% of children in subsidised daycare, enabling their parents to continue working as before. Nordic countries have more flexible working patterns to accommodate the needs of parents. Importantly, they don't see adapting work to parenthood as loss of ambition, simply a phase in a working life. In France most schools offer pre and post-school-hours creches and clubs in addition to municipal and private nurseries.
Here in the UK there is much talk of the importance of looking after working mothers but not enough real support for childcare. We need to bring the cost down and increase the supply. It may be unrealistic to return to the days of unregulated childminders, but there could be some relaxing of rules and more subsidised training schemes to boost numbers. Private nurseries could be allowed business rates and VAT relief to help keep costs down. More large companies could sponsor nursery facilities or follow Goldman Sachs in providing an on-site facility.
The perfect solution, of course, would be more generous tax credits against the cost of childcare. Daft, I'm told, even to mention in the current economic climate but it may be a calculation worth doing. There would be extra tax revenues from working mothers and their helpers and the huge benefit of encouraging more women to continue their professional lives. Besides unless this leaking pipeline is plugged, the male/female ratio at the top of professions and large corporations will continue to be skewed against women.
.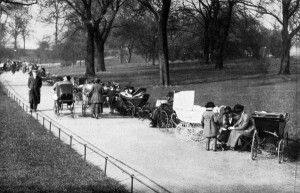 Nannies in Hyde Park 1919